The Fishing

The Atlantic waters off Roundstone yeild huge numbers of many species. Drift fishing over the many reefs in 15 to 50m of water will yield Pollack, Ling, Cod, Coalfish, Wrasse and Mackerel and many others .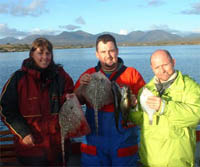 Anchoring up and bottom fishing over sand and gravel will yeild many types of Ray and other flatfish like Plaice, Dabs and Turbot. Bull huss are very common and put up a tremendous fight.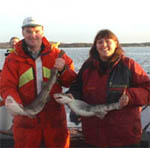 A day's fishing over the reefs and then on the bottom can yield over 20 different species and many groups thoroughly enjoy a "Species Hunt" competition.
Shark fishing beyond the reefs is also very popular. Blue shark up to 150lbs have been cauth regularly and porbeagle can also be found in these waters. All shark caught are tagged and released as part of the Fisheries Board reseach project.
The boat is also equipped with a "fighting chair" for the giant Blue Fin Tuna that can be found off-shore.