The Lady Marlyn
The boat is a "Lochan 40" with twin Volvo engines and a top speed of 22 knots and a cruising speed of 16 knots.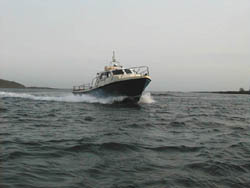 Fast enough to get to the fishing ground quickly and comfortably.
The Lady Marlyn can accommodate 12 anglers in comfort and the cabin has seating for the same number.The boat also has a galley and toilet.
Equipment.
the Lady Marlyn is fully licensed by the Irish Dept. of the Marine to carry 12 anglers as well as her crew. Safety is paramount and the boat has a full compliment of life jackets and life raft.
Fully equipped with modern electronics, radar, gps, fish finder, radio and emergency beacons.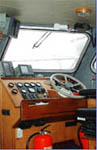 Fishing tackle is available for hire and a wide range of all the best bait, frozen and fresh, can be provided.