Welcome to
Roundstone Sea Angling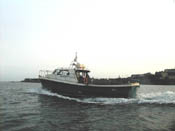 Roundstone village is one of the most attractive small fishing villages in the west of Ireland. The harbour is very sheltered and can be used even at the lowest point of the tide. However, it is only a short sail to the prolific fishing reefs and to the deeper water of the Atlantic.


Pat Conneely has been fishing this area and beyond for over 15 years and is one of the most experienced and respected charter skippers in the west of Ireland. He regularly features in the annual records for Ireland as the highest catch skipper for his speciality - the Blue Shark.
Roundstone village itself is very lively with lots of pubs, restaurants and cafes. Traditional music in the pubs and hotels at night is also a feature many visitors enjoy.
Please use the floats on the left or the links below to tour the site and explore the best Sea Fishing in Western Europe.